NATURAL FIRST AID for HOME & TRAVEL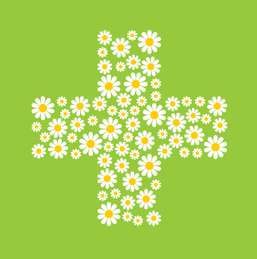 Monthly Study Group with Betsy:

The First Wednesday of each month
6:30-8:00 pm
in her office at the Nuin Center
$10.00
Bring your questions
Share your successes
Learn more how to care for your Self and your family


---


This video testimonial is an illustration of how acute homeopathic care can prevent chronic disease. In this particular case, the treatment of an acute episode of poison ivy ends up relieving arthritic pains that have persisted for years.
Homeopathy is holistic, designed to restore balance and health on all levels.


Remedy suggestions for Acute Care Homeopathy at Home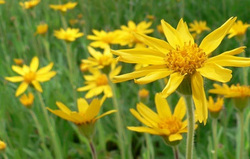 Aconitum napellus: Best for illnesses that come on after a severe fright, exposure to cold weather or cold wind. It is also excellent for acute injury to the eye.

Apis: For bee stings, bug bites, and hives that produce painfully itchy eruptions and that feel better with cold applications.

Arnica montana is pictured to the left. This delicate mountain daisy eases all kinds of trauma: a fall on the ice, the first game of tennis in years, even a traumatic brain injury. It comes in pellets for sublingual use which are stronger and indicated for the more serious injuries, or in topical creams for sore muscles and joints. Early use limits bruising, decreases pain, and facilitates rapid healing.


Arsenicum Album: Poisoning from bad food or water resulting in severe diarrhea and/or vomiting, accompanied by chills and nervous fright.
Cantharis: The best treatment for burns from heat (kitchen or sunburn) that produce blisters. Give it ASAP after a burn, and repeat often until the pain eases. Please be sure to seek professional care is the burn is serious.

Hypericum: Helps heal injuries to nerve-rich areas, like the tips of fingers and toes, the spine, and the tailbone. Often used with Arnica. This remedy can also be helpful in relieving dental pain.


Ledum: Go-to treatment for all kinds of puncture wounds, including animal and bug bites, where the wound is cold, yet is relieved by cold applications. Try with Arnica for black eyes.

Nux vomica: A good remedy for toxic overdoing of all kinds: eating, working, hangovers, and for undersleeping.

Rhus tox: Particularly good for sprains and strains that responds better to warmth and gentle movement and worse to cold and immobility. (a sprain, arthritis). It is also the premier remedy for poison ivy.

Ruta: Use with Arnica after injury to a joint has occurred where a tendon or a ligament attaches to bone.

Choosing the Remedy and Dose
The frequency with which a patient takes a homeopathic remedy varies with the intensity of the symptoms and the patient's response to the treatment. For acute problems, you might start by placing three to five pellets of a 30c (or lower) remedy under the tongue every two to six hours. More intense symptoms may call for a similar dose every 20 to 30 minutes, whereas mild symptoms might require treatment only three to four times a day.
Homeopaths prescribe a remedy based purely on individual parameters: what makes symptoms better or worse; the time of day they appear; or whether a patient feels restless, anxious, or angry. The remedy they choose should fit the patient's experience of the disease state, so there really isn't one treatment for an illness.
If you feel much better after a dose, stop taking the remedy until the first sign that your symptoms have returned. In contrast to the typical stay-the-course pharmaceutical approach, this type of dosing reflects Hahnemann's desire to find the minimal effective dose—based on his belief that too much medication, chemical or homeopathic, impedes our inner healing power.


---