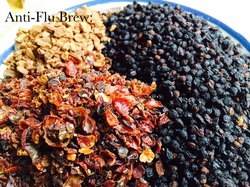 Making my elderberry brew has become an autumn ritual as much as tucking in the garden at the first frost and sealing the windows. Over the years, I have tweaked the recipe to be a synergistic blend of berries and spices that warm your system and wake up its immune response. Elderberry is high in flavonoids, antioxidants, anti-inflammatory, and has been found to be effective against at least 8 different influenza viruses.
Impressive!
Elderberry's potent anti-viral medicine hides well in my brew though. The tonic is sweet, warming, tasty. I combined elderberry in a sugar-free synergistic blend that packs a big punch against winters woes and everyone likes it! Even children. Give it a try!


2/3 cup dried organic elderberries
One stick of organic cinnamon, highly antimicrobial, & a warming spice to take off the chill.
1/3 cup dried organic rose hips, loaded with Vitamin C.
3 teaspoons licorice, a broad anti-viral which prevents viruses from replicating.
3 grinds from a black pepper mill, an activator spice making the other ingredients more bioavailable.
3 cups of fresh apple cider ~ naturally sweetening, loaded with healing minerals and pectin.

Simmer all ingredients gently for 30 minutes, then allow to steep until cool.
Strain through a cheese cloth, squeezing well to extract the juice.
Stir in raw honey to taste. I usually use it as it, adding it to a cup of tea.


Throughout the flu season, I take one tablespoon per day. If I'm feeling run down or know that I have been exposed, I keep myself warm, well-rested, and I will take up to ten tablespoons per day.

Elderberry appears to have few side effects, however, if you are being treated for any chronic illnesses, you should talk to your health care provider before taking elderberry. For more information on Natural Health Care, including Homeopathy, please visit my website at www.BetsyReilingWellness.com.

Supporting Research

Kong F. Pilot clinical study on a proprietary elderberry extract: efficacy in addressing influenza symptoms. Online Journal of Pharmacology and Pharmacokinetics. 2009;5:32-43.

Uncini Manganelli RE, Zaccaro L, Tomei PE. Antiviral activity in vitro of Urtica dioica L., Parietaria diffusa M. et K. and Sambucus nigra L. J Ethnopharmacol. 2005 Apr 26;98(3):323-7.

Vlachojannis JE, Cameron M, Chrubasik S. A systematic review on the sambuci fructus effect and efficacy profiles. Phytother Res. 2010 Jan;24(1):1-8. Review.

Zakay-Rones Z, Thom E, Wollan T, Wadstein J. Randomized study of the efficacy and safety of oral elderberry extract in the treatment of influenza A and B virus infections. J Int Med Res. 2004;32:132-40.